Group Bookings at The Thatched Tavern
Whether it is a special occasion, works dinner, corporate entertaining or just a catch-up with friends The Thatched Tavern has plenty of options for you to choose from.
Over the past 10 years we have organised many large bookings from tables of 10 to over 100 people for private hire.
The beautiful restaurant has three distinct sections which can be booked individually or for one large party.
Our private room for up to 16 people on one table is a very popular option but we can also have groups of up to 22 on two tables in the beautiful beamed middle room.
Groups of up 40 can be seated in the first two rooms at three tables. The whole restaurant can seat 60 people on only four large tables.
As well as the sample set menus we can adapt menus to suit your needs, from canapés to a hot buffet, our talented chefs will do all they can to accommodate.
Please call us to discuss as we would be happy to help alternatively email and we will get back to you.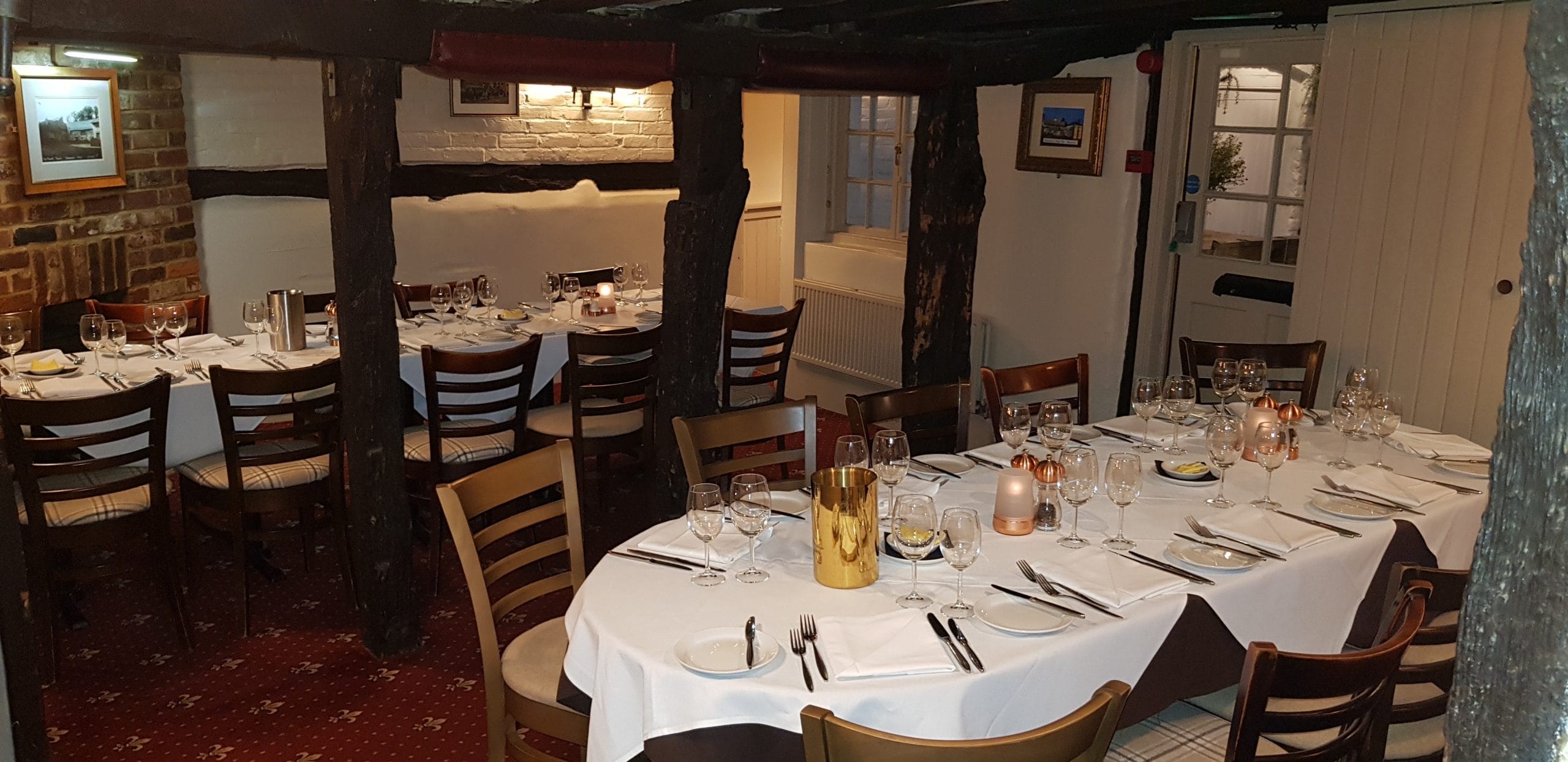 TESTIMONIALS
On behalf of all 8 of us … Delicious food, excellent service, fabulous family evening … thank you team Thatched.
Lindsey – Facebook
TESTIMONIALS
I had eaten at this beautiful quaint old pub on a previous occasion and yesturday my son took me here for Mother's Day. The staff were all very nice and the meal was very tasty. I had the lentil roast and for desert I had apple and rhubarb crumble with vanilla custard. Some meals I have out are often a bit tasteless but this was lovely. Also all mum's were given a choice of a present on the way out, which was a very nice touch! Will definitely return.
Cass – Facebook
TESTIMONIALS
Always superb. Food, Staff, Ambiance… this place has got it all.
Katie – Facebook
TESTIMONIALS
My favourite place…. everything a cosy local pub should be ❤️❤️❤️
Helen – Facebook
TESTIMONIALS
Had the most amazing meal here. Sat outside at the front to begin with having drinks and then moved to the back outside for food. Staff very attentive, food fabulous. Will be visiting again.
Charlotte – Tripadvisor
TESTIMONIALS
Never heard of the place before until we bought a Groupon voucher. Great food and service with a nice atmosphere in a quiet location… A little difficult to park is the only downside but well worth the trouble as I will be returning here soon..
Neil – Tripadvisor
TESTIMONIALS
A great place too be Just feels so relaxed and comfortable Very nice sat in the Garden in the Sun Friendly staff Not eaten here … Yet … but it's on the to do list
Andy – Tripadvisor
TESTIMONIALS
Sat in the Garden, full menu and table service received. Crab linguine, roast beef and Eton mess were all faultless as was the service. The standards here really are excellent. Highly recommend!!!
Robin – Tripadvisor